Contact Information
CONTACT US
You can book an appointment at the following hours:
Monday to
Friday
9:30 to 14:00
16:30 to 20:30
HOW TO FIND US
My office is located in the city centre of Cartagena, in 26 Carmen Street, 2nd floor.
The nearest stops of the bus are in Plaza de España and Real Street.
Taxi stands are located very close, in Plaza de España, Plaza Juan XXIII and Plaza Castellini.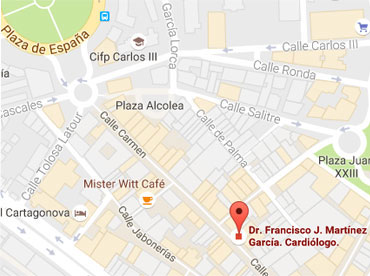 CAR PARKING INFORMATION
If you come with your private car, you can park it in the  Parking Plaza de España, located 250 meters from the office or in the Parking Plaza del Par, located 150 meters from the office. If you park your car in one of this two parkings, the 1st hour of parking is FREE.